2022 – KWARTAAL 4 – GRAAD 9 – WISKUNDE – VRAESTEL 2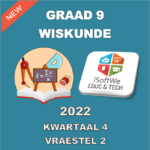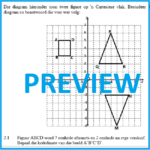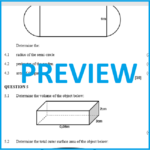 Resource Description
SPLINTERNUWE ASSESSERING.
EERSTE VOLSKAAL EINDEKSAMEN SEDERT COVID19.
Al die vergelykings, sketse, tekeninge en diagramme is geskep in MSWord en is volledig en maklik om te redigeer (deur enigiemand) – dit verseker dat die assessering aanpasbaar is vir toekomstige gebruik.
STRENG OPGESTEL VOLGENS KABV ONDERWERPE:
– Datahantering
– Transformasie Meetkunde
– Stelling van Pythagoras
– Oppervlakte en Omtrek van 2D-Vorms
– Totale Buite-oppervlak en Volume van 3D-Voorwerpe
– Meetkunde van Reguitlyne
– Meetkunde van 2D-Vorms
[TOTALE PUNTE: 75]
SLUIT IN:
·         'n Volledige nasienriglyn.
·         Opsomming van kognitiewe vlakke.
KONTROLETOETSE & EKSAMENS is heeltemal OORSPRONKLIK, van HOË STANDAARD en volg die Graad 12 formaat om leerders te begin voorberei vir die NASIONALE SENIOR SERTIFIKAAT (NSS) EKSAMEN.
Use, by you or one client, in a single end product which end users are not charged for. The total price includes the item price and a buyer fee.