Afrikaans Plaasdiere plakkaat en werkskaarte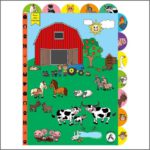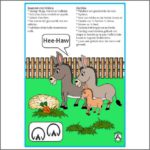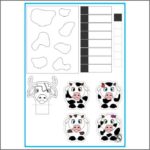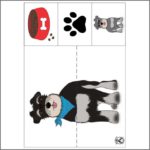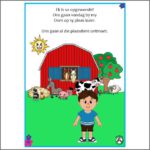 Resource Description
Om vir kinders stories van diere te vertel, leer hulle om diere lief te hê en om na hulle te kyk. Kinders leer om empatie en respek vir die diere en mense te hê.
Dit ontwikkel kinders se natuurlike nuuskierigheid en help hulle om te verstaan dat diere ook behoeftes het. Dit skep 'n bewuswording van ander lewende wesens se welstand en help kinders om te verstaan dat hulle gedrag ander kan beïnvloed.
Die storie, werkskaarte en aktiwiteite kan gebruik word vir:
a. Luistervaardigheids oefening.
b. Bewusmaking van klankverskille en
c. Nabootsing van klanke
d. Bevordering van kreatiwiteit
e. Uitbrei van woordeskat
f. Geheue oefeninge/ herroeping
g. Handvaardighede.
Wat is ingesluit:
1. Plakkaat
2. Prettige storieboek
3. Werkswyse en instruksies
4. Besprekingskaarte per dier (10 plaasdiere)
5. Twee aktiwiteite per dier (20 aktiwiteite in totaal)
6. Pas die diere by mekaar speletjie (10 plaasdiere).
Plaasdiere:
* Donkies
* Perde
* Honde
* Katte
* Ganse
* Bokke
* Beeste
* Varke
* Skape
* Hoenders
75 Bladsye om op 'n maklike en eenvoudige manier vir die kinders te leer:
* Dier se naam
* Dier se geluid
* Wat noem ons die mannetjie en wyfie diere
* Wat noem ons die diere se kleintjies
* Wat eet die diere
* Hoe lyk hulle voetspore
* En talle meer interessante feite oor elke dier.
Intellectual Property All contents of this book and games, understood to include, but not limited to; text, graphic design, games, images or content, are the intellectual property of Speech Fun / Spraakpret. No content may be duplicated, resold, reused, distributed, displayed, translated, modified, reverse-engineered, disassembled, recompiled or otherwise exploited. You shall not upload to, or otherwise publish through social media sites, any of the contents, information or other material that infringes on Copyrights. It is intended for the use of the buyer of this product, only.