Animated GIF Water Transport Clipart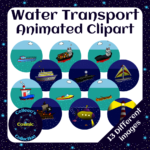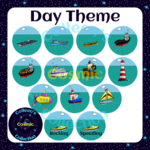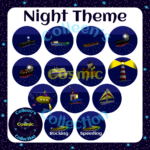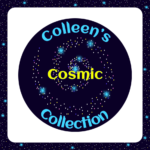 Resource Description
High-Quality Animated Clipart and a set that can be used in BOOM resources both included!
This Water Transport Clipart set contains 16 different water transport images, all in vibrant colour with round backgrounds.
IMAGES INCLUDED:
*Aircraft Carrier
*Cabin Cruiser
*Canoe
*Container (Cargo) Ship
*Container Ship with no cargo
*Cruise Ship
*Lighthouse
*Pirate Ship
*Speedboat rocking
*Speedboat speeding
*Submarine
*Tugboat
*Yacht
All images come both in Day Theme and Night Theme versions.
All animated images are saved as GIF files, and can be used in digital resources.
A smaller, web-friendly copy of each image is also included (in a folder called "Small") which can be used on BOOM.
That is 26 animated GIFs altogether!
If you check out this FREEBIE, you will be able to see the style and quality of my Water Transport Clipart and Animated Clipart.
You may like to take a look at my other clipart, including my other Water Transport Clipart, and my other products in my store.
PLEASE NOTE: WHEN PURCHASING THIS PRODUCT, YOU WILL RECEIVE A PDF DOCUMENT WITH A LINK TO A GOOGLE DRIVE FOLDER. THE CLIPART IMAGES ARE IN THIS FOLDER. When you click on this link, you will be able to VIEW this folder and DOWNLOAD the files, but not edit anything in the folder. You do not need to have a Google Account for this to work. This means that if I ever add anything to the folder, you will be able to access the updated images!
Many of my products are 50% off for the first 48 hours after I upload them! So be sure to come back to my store often so you don't miss out on these amazing deals!
TERMS OF USE
All designs and images from Colleen's Cosmic Collection are the creative property of Colleen Schwartz.
As the original purchaser of this product, you have permission to use it for personal or commercial purposes. This licence is only for 1 person and is non-transferable. If more people wish to use these graphics, they need to purchase separate licences.
EACH SET OF CLIPART (except borders and digital papers) purchased from Colleen's Cosmic Collection contains 2 versions
*Large, high-quality images
*Small, lower-quality images
Personal Use:
You may use images purchased from Colleen's Cosmic Collection in any way for your own personal and non-commercial creations with no restrictions!
Commercial Use:
Regardless of what type of resource you are creating with my clipart, if you are using it commercially, you need to give credit to Colleen's Cosmic Collection, preferably with a link back to my store.
Please see below for more specific requirements when using my ANIMATED CLIPART commercially.
You may:
Use my Animated Clipart on any of the following platforms as stated:
BOOM
Please note, you will need to use the small versions of the GIFs on BOOM due to their file size restrictions.
GOOGLE PRODUCTS
As MP4 videos.
Please note: With some Google Products, you will not be able to add the MP4 directly to the file. In this case, you would need to include a link to the file in Google Drive instead.
POWERPOINT/WORD PRODUCTS
As MP4 videos
YOUTUBE MP4 VIDEOS
Credit to Colleen's Cosmic Collection must be included somewhere in your video.
Please ensure that you know how to convert GIF to MP4 BEFORE purchasing any of my Animated Clipart if you intend to use it on a platform other than BOOM.
You must give appropriate credit to Colleen's Cosmic Collection, preferably with a link back to my store.
You may not:
*Claim my images as your own.
*Redistribute my graphics as is in any way.
*Use my graphics to create clipart to sell.
*Use my Animated Clipart on any platform other than those mentioned above.
52 ANIMATED images! 13 Different Water Transport Images, all animated, with round backgrounds, and with both Day and Night themes. Each GIF comes in 2 file sizes – a high quality size and a web-friendly size (less than 300k – perfect for BOOM)!
Use, by you or one client, in a single end product which end users are not charged for. The total price includes the item price and a buyer fee.