Candy land classroom decoration job chart
Sale!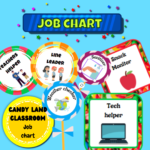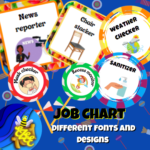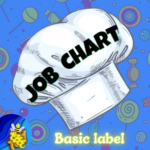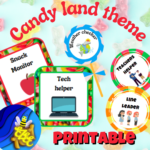 Resource Description
This is the classroom décor collection that you have been waiting on! Inspired by candy, the candy land theme has all the pops of colors to appeal to your students with playful fonts and designs to choose from. Fill your classroom walls with bright, colorful décor while giving your classroom that positive cheery look. The best part of using classroom decorating is to let your creative side out and design your very own classroom exactly the way you and your students would like it, this candy-themed decoration allows for you to pick and choose different fonts and looks.
This particular set is the job chart that is inspired by the candy land theme.
This set includes:
Different jobs: Different fonts and designs
Teacher helper

Line leader

Desk monitor

Calendar helper

Weather checker

Sanitizer

Class cleaner

Door holder

Supply monitor

Time keeper

Librarian

Lunch monitor

Snack monitor

Tech helper

News reporter

Chair stacker

Bathroom monitor

Locker helper

Plant specialist

Equipment helper

Pencil monitor

Light specialist

Pet feeder

Recycle manager

Attendance taker

Homework checker

Cubby checker

Class counter

Tuck shop monitor

Student greeter

Mask checker

Recess monitor
DIRECTIONS:
The files are all PDFs. Print and laminate the pages to use in the classroom.
If you would like anything specific to be added, please let me know, and I'll be happy to do so when I am able to.
There are blank options that can be filled with your own personal jobs, with space for a picture as well.
Use:
You are free to use and modify the material.
Non-commercial use only
You may not resell the material.
Thank you for your purchase! If you like this resource be sure to check out the other Candy land décor.
You are free to use and modify the material. Non-commercial use only You may not resell the material.