Candy land classroom decoration voice level posters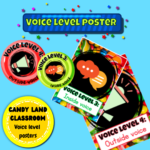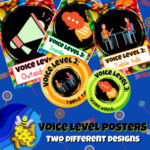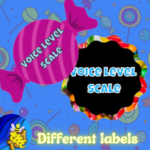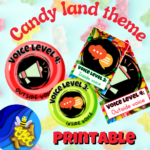 Resource Description
This is the classroom décor collection that you have been waiting on! Inspired by candy, the candy land theme has all the pops of colors to appeal to your students with playful fonts and designs to choose from. Fill your classroom walls with bright, colorful décor while giving your classroom that positive cheery look. The best part of using classroom decorating is to let your creative side out and design your very own classroom exactly the way you and your students would like it, this candy-themed decoration allows for you to pick and choose different fonts and looks.
This particular set is voice-level posters that are inspired by the candy land theme.
This set includes:
Different posters (Voice level 4-0): Different designs to label your focus wall.
Voice level 4: Outside talk

Voice level 3: Inside talk

Voice level 2: Table talk

Voice level 1: Whisper

Voice level 0: No talking
DIRECTIONS:
The files are all PDFs. Print and laminate the pages to use in the classroom.
If you would like anything specific to be added please let me know and I'll be happy to do so when I am able to.
Use:
You are free to use and modify the material.
Non-commercial use only
You may not resell the material.
Thank you so much for your purchase, If you like this resource be sure to check out the other Candy land classroom décor.
You are free to use and modify the material. Non-commercial use only You may not resell the material.