English Language Notes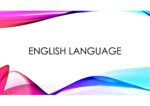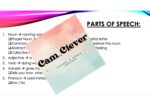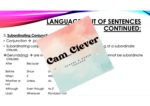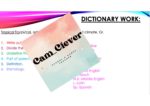 Resource Description
This Slideshow presentation can be used for grades 5 up to Matric. It looks at all the main language principles and skills and has numerous examples too. It is mainly for high school students but can also be adapted for IP students. It also includes answering techniques for each sections covered.
It includes:
Parts of Speech

Nouns
Adjectives
Adverbs
Verbs
Pronouns
Conjunctions
Prepositions
Articles

Figures of Speech

Figurative
Literal
Comparisons
Sound Devices
Onomatopoeia

Types of Language

Formal Language
Informal Language

Style
Register
Tone
Mood
Attitude
Emotive Language
Diction
Intention
Language Unit of Sentences

Types of Clauses
Types of Sentences
Loose Complex
Periodic Complex
Types of verbs

Active and Passive voice
Direct and Indirect Speech
Punctuation Marks
Oxymoron
Paradox
Juxtaposition
Euphemism
Hyperbole
Innuendo
Dictionary Work
Synonyms, Antonyms, Homonyms, Homophones
Textual Editing

Errors in Grammar
Errors in Style
Errors in Punctuation

Words that get mixed up
Phrases confused
Comprehension tips
Answering Techniques
Types of questions for a Comprehension
Please do not share the resources that you buy with others, rather send them to my online Teacha profile. I have great resources that can be used in the classroom instead of you making them yourself.