Euclidean Geometry: A Comprehensive Summary of Rules & Strategies for Gr 8 & 9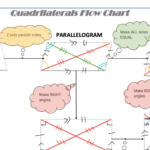 Resource Description
A comprehensive, yet concise summary, of all the geometry rules that need to be studied (including appropriate abbreviations and examples of application) in Grade 8 & 9 for the CAPS syllabus.
All rules are expressed i) fully in words ; ii) in the correct abbreviated form ; iii) visually using a picture to illustrate
Also contains some very helpful strategies/methods to help solve geometry problems in a structured way so that you know 'what to look for' – which is often where geometry feels difficult!
Become a master of geometry – starting with a good strategy and by knowing your rules WELL!
Use, by you or one client, in a single end product which end users are not charged for. The total price includes the item price and a buyer fee.