Falling blocks – 3D Shapes basics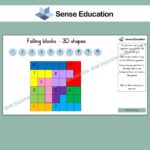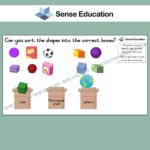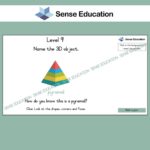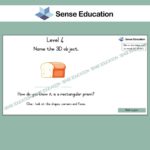 Resource Description
Colourful blocks are falling from the top of the slide and need to be put in a specific position to be able to fit into each other. These puzzle pieces will make a square once you have answered all the questions about 3D shapes.
This interactive lesson consists of:
– Naming 3D shapes (rectangular prism, sphere, triangular prism, cube, cone, pyramid)
– Identifying other examples of specific 3D shapes around us
– Discussing shapes, corners and faces of 3D shapes
– Sorting 3D shapes
– Identifying 3D shapes around you
Did you complete the puzzle? Were you able to be spies and find all the 3D shapes around you?
*Post a picture or video of the learners interacting with our content and share it on social media. Make sure to tag Sense Education so that others can see how learning can be fun.
Slides: 14
Subject: Mathematics
Content: Space and shape
Format Type: PowerPoint Presentation
Suitable for: Grade 1
Group size: Unlimited
Copyright: Sense Education 2022
Use, by you or one client, in a single end product which end users are not charged for. The total price includes the item price and a buyer fee.