FREE SAMPLE Personal Use Bingo Generator – PC and Mac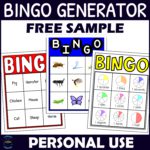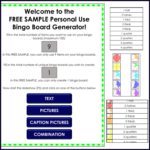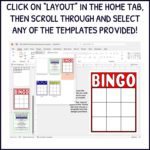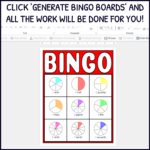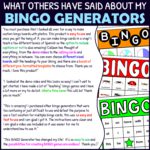 Resource Description
Students love playing bingo, but creating bingo games can take a long time! But now, with this bingo generator, you will be able to create beautifully designed, fully customized bingo games in minutes!
Please note that this generator is intended for
Individual Classroom Use ONLY.
You
MAY NOT
use it to create bingo games to sell on Teachers Pay Teachers or any other platform or to use commercially in any other way.
I have created this FREE SAMPLE so that you can test whether the generator works with your version of PowerPoint. It is not designed for you to be able to create a full bingo game.
Once you have tested it, if you are happy with the way it works, please go and check out the full version of the generator:
Go to my store to find the PERSONAL USE and the COMMERCIAL USE versions of my Bingo Generators You will be able to create a game with unlimited unique bingo boards (in colour and BW), in a variety of sizes and with a wide variety of template designs!
All you need to do is choose what type of content you want to use in your bingo boards – you can use text, pictures, caption pictures or a combination! Then you need to add the content – the pictures and/or text. You can format the text as you wish. Choose a template from the 3 options provided and then click the "Generate Bingo Boards" button to generate your bingo board!
Follow the same process for creating your calling cards, and you're done!
This Bingo Generator FREE SAMPLE includes:
Macro-Enabled PowerPoint file with Bingo Board for creating the bingo boards

Macro-Enabled PowerPoint file for creating the printable Calling Card

Instructions on how to use the generator

Link to an instructional video showing you how to use the generator
The generator for this product is in a Dropbox folder. You will receive a PDF with a link to access this folder so that you can download it.
What others are saying about my bingo game generator:
"You must purchase this! I looked all over for a way to make custom bingo boards with photos. This product is

easy to use

and once you get the hang of it, you can make bingo cards in a snap! I teach a few different levels of Spanish so the

option to include captions or not

is also amazing! Colleen has thought of everything, from the

demo videos

to the

calling cards

and everything in between. You can even choose

different sized boards

, edit the headings to your liking, and there are a

bunch of different pre-formatted templates

to choose from. Thank you so much, I love this product!"
"I looked at the demo video and this looks so easy! I can't wait to get started. I have made a lot of "teaching" bingo games and I have a lot more on my to-do list.

What a time saver

this will be! Thank you so much!"
"This is amazing! I purchased other bingo generators that were too confusing or just difficult to use and defeat the purpose to use a fast solution for multiple bingo cards, this was

so easy and fast to use

and I am glad I got it. The instructions were clear and I am glad a video was included so it was easier for me to understand how to use it."
"This BINGO Generator has changed my life! It's so

easy to use

and the

possibilities for creating BINGO games are endless!

Thank you:)"
If you have tested it and the generator does not work with your version of PowerPoint, you may still be interested in using the templates with my editable PowerPoint Bingo Templates. You can find them in my store!
Mac is a trademark of Apple Inc., registered in the U.S. and other countries and regions.
Microsoft and PowerPoint are trademarks of the Microsoft group of companies.
All designs and images from Colleen's Cosmic Collection are the creative property of Colleen Schwartz.
As the original purchaser of this product, you have permission to use it for
personal, non-commercial purposes
. This licence is only for 
1 person 
and is 
non-transferable
. If more people wish to use this generator, they need to purchase separate licences.
Use this item for personal/student use in a single classroom.

Purchase licenses at a discount for others to use this resource.

Enjoy this product for years to come (check back for updated versions).

Use on secure sites for virtual learning (such as Google Classroom etc.)
Give this item to your friends or colleagues.

Copy this item for use by others.

Post this item on a website for download. This includes personal websites, district websites, Amazon Inspire, etc.

Post this item or any like copy for sale or for free.

Use this item commercially.
Please contact me if you have any questions!
Use, by you or one client, in a single end product which end users are not charged for. The total price includes the item price and a buyer fee.