Geography assignment – My world
Sale!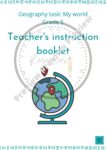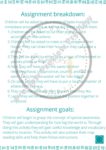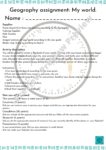 Resource Description
Grade 5 Geography assignment that can assist learners to improve spacial awareness. Children are asked to gather a series of pictures starting with their house and moving bigger to their street, neighbourhood, city, province country, and lastly the earth. The goal of the assignment is to develop research and map reading skills and to give children an idea of how small their environment is compared to the world.
Use, by you or one client, in a single end product which end users are not charged for. The total price includes the item price and a buyer fee.