Gr. 4 Geography BUNDLE pack Term 1-4 Summaries in PDF & Powerpoint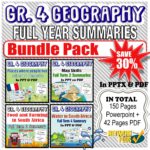 Resource Description
SAVE 30% with this bundle pack of Gr.4 Geography Terms 1-4 summaries with beautiful educational illustrations.
Suitable for use in class, or for test/exam preparation. Kids love studying for exams with the fun and colorful illustrations of these slideshows and summaries!
Included (Pptx and PDF for each):
Term 1: Places where people live
Term 2: Map Skills
Term 3: Food and Farming in South Africa
Term 4: Water in South Africa
The PDF Summaries are suitable for printing for learners for 1 classroom, or all learners in the family. (Printer friendly)
Note: The requirements for tests / exams vary by school, the slideshow can be adjusted accordingly.
ALLOWABLE USE:
This product may be used:
– By 1 teacher in 1 classroom. The PDF summaries may be printed for learners of 1 classroom.
– In households: All children in 1 household may use the product.
– No part of this product may be resold.
– No illustrations may be used for commercial purposes.
Thank you for your interest and please contact me if you have any queries
Venita Oberholster
NS: HIERDIE STEL IS OOK BESKIKBAAR IN AFRIKAANS
Use, by you or one client, in a single end product which end users are not charged for. The total price includes the item price and a buyer fee.