Graad 4 Geskiedenis Kwartaal 4 – Kommunikasie PPT & PDF opsommings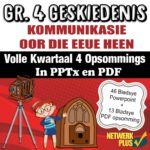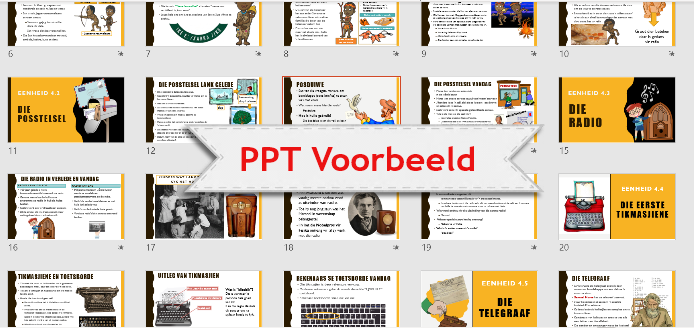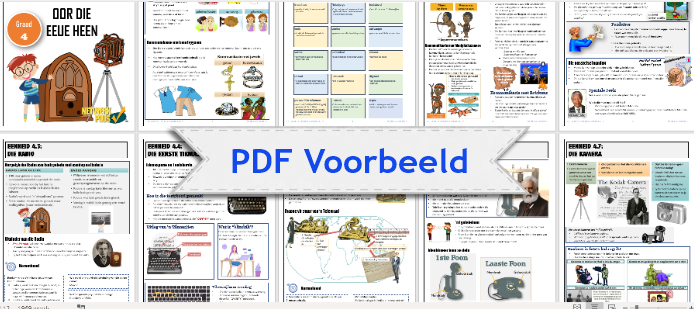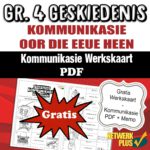 Resource Description
Gr. 4 Geskiedenis_Kwartaal 4_Kommunikasie oor die Eeue heen_opsomming met pragtige leersame illustrasies.
Geskik vir klaskamer of tuisgebruik. Maak leer vir kinders interessant en visueel.
Gratisl werkskaart ingesluit.
ONDERWERPE:
WAT IS KOMMUNIKASIE?
EENHEID 4.1: DIE SAN EN DIE OUDSTE VORMS VAN MENSLIKE KOMMUNIKASIE
EENHEID 4.2: DIE POSSTELSEL
EENHEID 4.3: DIE RADIO
EENHEID 4.4: DIE EERSTE TIKMASJIEN
EENHEID 4.5: DIE TELEGRAAF
EENHEID 4.6: DIE TELEFOON
EENHEID 4.7: DIE KAMERA
EENHEID 4.8: DIE TELEVISIE
EENHEID 4.9: DIE REKENAAR, INTERNET EN SELFOON
Geskik vir behandeling in klastyd, of vir eksamenvoorbereiding.
Sluit in:
33 bl Powerpoint skyfievertoning (.pptx dokument)
10 bl PDF Opsomming om uit te druk vir leerders
Let wel: Die afbakenings vir toetse/eksamens verskil per skole, die skyfievertoning kan daarvolgens aangepas word.
Lisensie: Vir gebruik in 1 klaskamer, of 1 huishouding.
Hierdie produk mag nie herverkoop word nie. U kan dit wel aan u studente in u klaskamer verskaf, of aan meer as een leerder in u huishouding.
Use, by you or one client, in a single end product which end users are not charged for. The total price includes the item price and a buyer fee.