Graad 4 Wiskunde Kwartaal 2 – PLATINUM HANDBOEK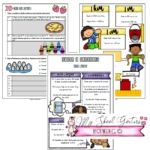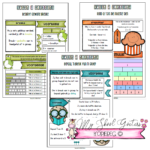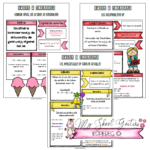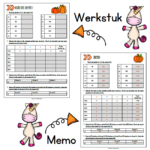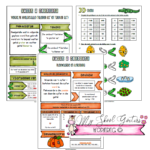 Resource Description
Pakket wat bestaan uit 88 bladsye A4 PDF Aflaaibare opsommings, werkstukke en memo's.
Elke onderwerp bevat 'n deeglike verduideliking (opsommin), oefen werkstuk en 'n memo.
Onderwerpe wat gedek word:
1. VERGELYK HEELGETALLE (KLEINER EN GROTER AS)
2. PLEKWAARDE EN AFRONDING
3. SKAT ANTWOORDE DEUR AF TE ROND (GROTER GETALLE)
4. GEBRUIK OPTEL OM AFTREK TE KONTROLEER (GROTER GETALLE)
5. TEL HEELGETALLE OP (GROTER GETALLE)
6. TREK HEELGETALLE AF (GROTER GETALLE)
7. LOS GELDPROBLEME OP
8. BESKRYF GEWONE BREUKE
9. RANGSKIK EN VERGELYK GEWONE BREUKE
10. BEPAAL 'N BREUK VAN 'N GROEP
11. LOS PROBLEME MET BREUKE OP
12. MEET EN SKRYF LENGTES NEER
13. SKAT LENGTE
14. VERGELYK EN RANGSKIK LENGTES EN WERK MET LENGTE
15. HERLEI VERSKILLENDE EENHEDE VAN LENGTE
16. IDENTIFISEER EN RANGSKIK 3D-VOORWERPE
17. BENOEM EN VERGELYK 3D-VOORWERPE
18. VERMENIGVULDIG TWEESYFERGETALLE
19. VERMENIGVULDIG MET FAKTORE
20. SKAT DEUR AFRONDING EN LOS VERMENIGVULDIGINGSPROBLEME OP
21. HERKEN SIMMETRIELYNE
22. MEETKUNDIGE PATRONE
23. TEL HEELGETALLE OP EN TREK DIT AF
24. GEBRUIK 'N GETALLELYN
25. TEENOORGESTELDE BEWERKINGS EN OPTEL- EN AFTREKPROBLEME
26. DEEL 'N DRIESYFERGETAL, SKAT EN KONTROLEER
27. LOS PROBLEME MET DELING OP (NET OEFENINGE)
Ontwerp deur My Skool Goeters @ 2021. My School Stuff / My Skool Goeters
Use, by you or one client, in a single end product which end users are not charged for. The total price includes the item price and a buyer fee.