Graad 5 Geografie Opsommings Pakket 4 – Mynbou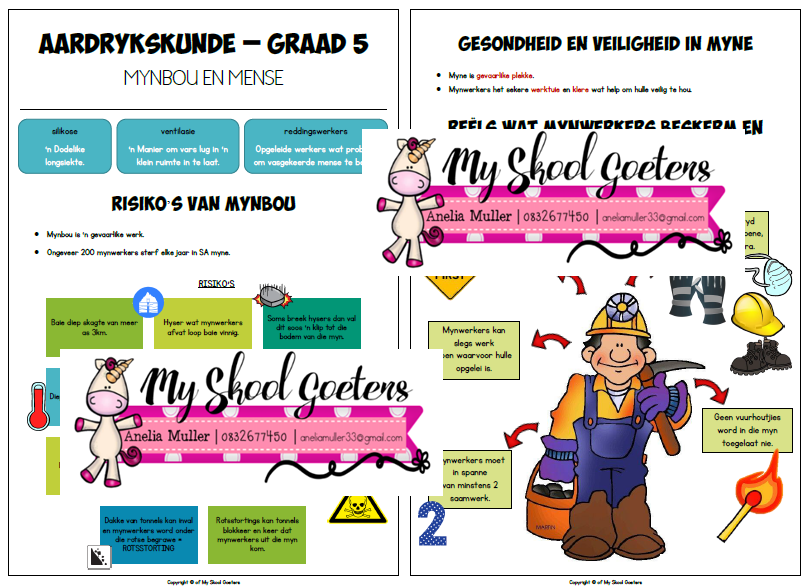 Use, by you or one client, in a single end product which end users are not charged for. The total price includes the item price and a buyer fee.
Resource Description
A4 PDF aflaaibare opsommings oor die volgende onderwerpe:
1 Mineraal- en steenkoolhulpbronne van Suid-Afrika.
2 Mynbou en die Omgewing
3 Mynbou en Mense
Uiteensetting van onderwerpe wat opgesom is:
1 Minerale as niehernubare hulpbronne / Suid-Afrika se belangrikste minerale / Steenkool as 'n niehernubare hulpbron / Gebruike van steenkool / Ligging van Suid-Afrika se myne / Mynbou en mense.
2 Wat is mynbou? / Maniere van mynbou / Bogrondse mynbou / Diepvlakmynbou / Hoe mynbou die omgewing beskadig / Hoe bogrondse mynbou plantegroei en wild raak / Hoe mynbou besoedeling veroorsaak / Hoe myne afval veroorsaak.
3 Risiko's van mynbou / Gesondheid en veiligheid in myne / Reëls wat mynwerkers beskerm en hulle veilig hou.
Opsommings gedoen vanuit Almal Verstaan Handboek.