Hourglass Timer GIFs with Countdown – Animated GIFs Clipart – Turquoise Sand Timers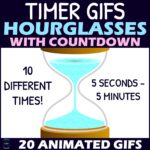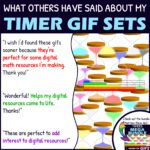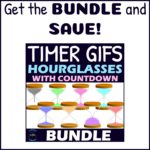 Resource Description
Take your digital resources to the next level by adding some extra fun and challenge with these ANIMATED Hourglass Timers Clipart images! These GIFs are fantastic for making your resources more exciting and engaging!
The hourglass timers in this set have a 3 second countdown before the sand timer turns over and the specified time starts. This gives students a chance to take in what is on the screen before the time starts running out. If you want timers that start immediately, with no countdown, you can find them in my store.
Go to my store to SAVE 20% on this set with my Countdown Hourglass Timer GIFs BUNDLE!
THIS ANIMATED HOURGLASS TIMER CLIPART SET INCLUDES:
20 Turquoise sand timer animated GIF images altogether
Images
10 animations with the sand running down in different times after the 3 second countdown
5 seconds
10 seconds
20 seconds
30 seconds
45 seconds
1 minute
2 minutes
3 minutes
4 minutes
5 minutes
Quality
2 copies of each image
A high-quality copy
A smaller, web-friendly copy which can be used in Boom Cards™ task cards.
Check out my preview video to see an example of the animations in action!
WHAT OTHERS HAVE SAID ABOUT MY TIMER GIF SETS:
"I wish I'd found these gifs sooner because

they're perfect for some digital math resources I'm making

. Thank you!"
"Wonderful!

Helps my digital resources come to life

. Thanks!"
"These are perfect to

add interest to digital resources!

"
Thank you so much,
Colleen Schwartz
Use, by you or one client, in a single end product which end users are not charged for. The total price includes the item price and a buyer fee.