Kleine Wolfie leer lees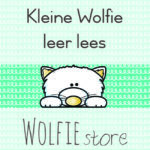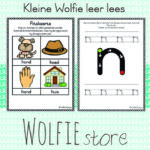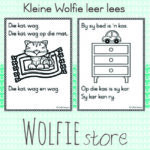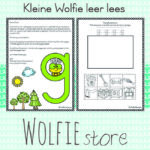 Resource Description
Hierdie is 'n REUSE pakket wat 330 bladsye bevat.
Die pakket is opgestel om klankies aan die kind bekend te stel, asook EKSTRA HULP vir kinders wat sukkel met lees / klankies.
Daar is 2 boekies:
1. Kleine Wolfie leer van klankies (235 bladsye)
– Bestaan uit die 26 letters van die alfabet.
– Elke alfabet letter het 'n unieke, pret storie en illustrasie om die klankie aan die kind bekend te stel.
– Flitskaarte met woorde – knip dit uit, die kind herken die prente en pas die woord daarby.
– Soek die letters en kleur dit in.
– Sensoriese aktiwiteit van elke letter.
– Die kind trek die letter se rigting met sy/haar vinger na.
– Soek letters in tydskrifte en plak dit.
– Oefen om die hoofletter en kleinletter te skryf.
– Knip aktiwiteit: plak die prent in 'n blok wat met die klankie begin.
– Alfabet letters om te lamineer en woorde te bou.
– Woordsoek: Kyk na die prente en vind die woord tussen verskillende letters.
2. Kleine Wolfie leer lees (95 bladsye)
– 10 Kort stories (meestal 3-letter woorde) met pragtige prente sodat woorde maklik herken kan word.
– Groot sigwoorde in blokke om te lamineer en vir vaslegging van woorde te gebruik.
– Woordsoek aktiwiteit na elke storie om die sigwoorde vas te lê.
Hierdie pakket is digitaal in PDF-formaat en moet self geprint word.
Wolfie Designs is trots op KWALITEIT werk! Wolfie Designs
Use, by you or one client, in a single end product which end users are not charged for. The total price includes the item price and a buyer fee.