Legkaarte
Sale!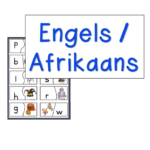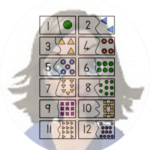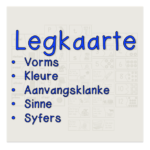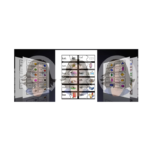 Resource Description
Selfkorregerende legkaarte vir beginners – 'n ideale "stil speletjie":
4 Kleur A4-bladsye met 10 tot 12 bypassende kaarte per vel.  Dit dek basiese vorms, beginklanke, syfers (1 – 12), sinne en kleure.  Die velle oor aanvangsklanke en syfers kan ook in Engels gebruik word (bv. l is vir leer én ladder).
Hou die kaarte heel as 'n verwysingsbladsy of sny die reghoeke uit en lamineer (breë, deursigtige kleeflint werk goed) voordat die legkaarte deur gesny word.  Druk elke kaart op 'n unieke kleur of bêre die stelle in afsonderlike banksakkies om verwarring te verhoed.
Indien jy dun stroke magnete het, kan jy die reghoekige kaarte daarop monteer voordat jy dit deursny – 'n ideale speletjie vir die yskas.
Copyright valid on all products. No resales allowed.