Preschool/Kindergarten/1st/ESL/Homeschool Resources – Seasons ALL SINGLE LESSONS IN ONE BUNDLE!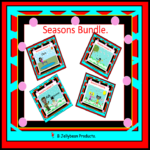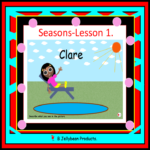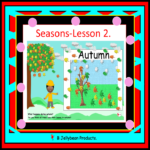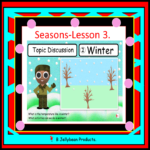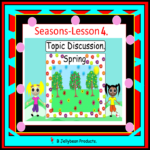 Use, by you or one client, in a single end product which end users are not charged for. The total price includes the item price and a buyer fee.
Resource Description
Speaking is important to be able to communicate. Reading helps you to learn new words and improve your language skills. These lessons focus on reading and speaking.
Flashcards and worksheets related to the lesson.
In class, teachers could divide the lessons up to accompany or complement lessons. It could also be used as a reading session lesson.
The duration of the lesson for ESL teachers will depend on the size of your class and how you decide to present the lesson.
Included: ALL THE SINGLE LESSONS IN ONE BUNDLE!
PDF – School  – Lesson 1 – 15 Pages (1 page terms of use).
PDF- School – Flashcard – 3 pages(1-page terms of use).
PDF – School – Worksheets – 4  pages (1-page terms of use).
PDF – School  – Lesson 2 – 13 Pages (1 page terms of use).
PDF- School – Flashcard – 3 pages(1-page terms of use).
PDF – School – Worksheets – 4  pages (1-page terms of use).
PDF – School  – Lesson 3 – 13 Pages (1 page terms of use).
PDF- School – Flashcard – 2 pages(1-page terms of use).
PDF – School – Worksheets – 4  pages (1-page terms of use).
PDF – School  – Lesson 4 – 13 Pages (1 page terms of use).
PDF- School – Flashcard – 2 pages(1-page terms of use).
PDF – School – Worksheets – 4  pages (1-page terms of use).
Make sure the device you intend to use this product on supports PDFs.
Thank you for your support.
The English version is not the same as the Afrikaans version.