Pretletters PRETLEES – 26 "Zig-Zag" klankeboekies – leesprogram – Pretletters met musiek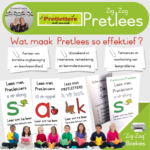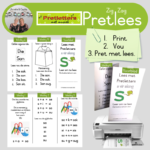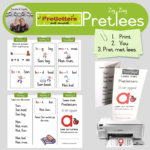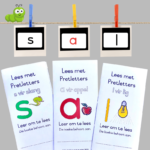 Resource Description
AANVANGSLEESONDERRIG: 26 PRETLEES-KLANKEBOEKIES
Pretletters Pretlees📕📗📘 is uiters effektief vir inoefening van korrekte oogbeweging, woordbou en vloeiende lees. Dit is uitstekend vir intervensie, remediëring, leerondersteuning & bevordering van leesvloeiendheid.
Pretletters Pretlees📙📘📗 is 'n doeltreffende hulpmiddel. Groter trefkrag word verleen in die sinvolle gebruik van kleur wat fokus op die klanke. Met die "Zig-Zag" boekies kan klanke ingeskerp word en woordeskat opgebou word. Die gebruiksmoontlikhede is baie wyd.
Elke klankeboekie is 'n enkel vel, wat rug-aan-rug uitgedruk word (Two-Sided-DUPLEX PRINTING) en in 2 plooie gevou word. 
STAP 1: Begin eerste met die klinkers (a, e, i, o, u). Leer dit aan met behulp van die Pretlees "Zig-Zag" boekies. Vir beste vordering & ondersteuning: Gebruik Pretletters met musiek se liedjies en gids.
STAP 2: Leer nou al die medeklinkers aan.
Use, by you or one client, in a single end product which end users are not charged for. The total price includes the item price and a buyer fee.