Wiskunde. Lynsimmetrie en rotasiesimmetrie plakkate CCC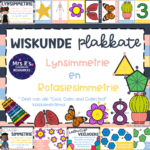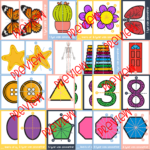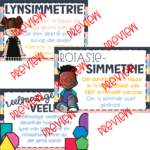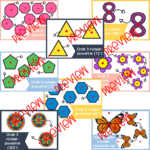 Resource Description
Hierdie produk bevat 26 plakkate. Drie plakkate verduidelik wat lyn/refleksie-simmetrie en rotasiesimmetrie is, en die res verskaf voorbeelde van hierdie tipe simmetrie.
Die lynsimmetrie voorbeelde het die beelde met die simmetrielyne aangedui, sowel as leë kopieë vir jou om te druk en te lamineer. Leerders kan dan hierdie lyne met witbordmerkers intrek as deel van 'n aktiwiteit.
Hierdie produk is ook in Engels beskikbaar. Dit vorm deel van my 'Cool, Calm and Collected' klaskamertema. Kyk bietjie na my winkel vir meer plakkate in hierdie tema.
Hierdie produk is slegs vir enkelklaskamergebruik. Dit mag nie in enige formaat versprei word sonder my toestemming nie.
My products are for single use only. You may not share these documents with anyone else (electronically or in hard copy) without my permission.