Auditory Memory Activity with Shapes and Colors Level 4 – Digital Boom™ Cards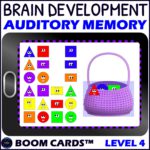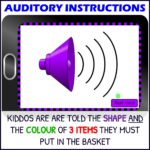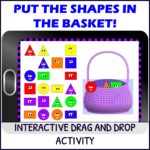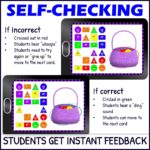 Resource Description
Need an auditory activity that will be fun and engaging? This no prep digital Boom Cards brain exercise activity is perfect for practicing listening and thinking skills and developing auditory memory! Your kiddos will be able to practice shapes and colours while listening to and remembering instructions which they will need to follow.
This mind game activity can be used for distance or hybrid learning – or face to face teaching!
How this Auditory Memory Activity works:
Students will be given an auditory instruction, telling them to put 3 different items in a basket. They will be told the COLOUR and the SHAPE if each item that they need to put in the basket on each turn.
The students then move to the next card and need to drag the required shapes into the basket that fit the descriptions in the instruction they were given.
Each instruction has 6 parts for the students to remember: the SHAPE and COLOUR of the 3 different items that they must place in the basket.
This fun Brain Development Activity includes:
33 Boom Cards
1 instruction card
16 cards with auditory instructions that students will need to follow on the next card.
16 cards for students to carry out the instructions they received on the previous card
Interactive drag and drop format
Boom Cards are self-checking and students get instant feedback!
If students are correct they hear a "ding" sound and can proceed to the next card to receive the next instruction.
If students are incorrect they hear "whoops". They will need to try again. If they cannot remember the instruction, they need to "Give up" to move to the next card to receive the next instruction.
Teacher information
Your kiddos will love practicing their auditory memory skills with this fun and interactive activity!
To use Boom Cards, you must be connected to the Internet. Boom Cards play on modern browsers (Chrome, Safari, Firefox, and Edge). Apps are available for modern Android, iPads, iPhones, and Kindle Fires. For security and privacy, adults must have a Boom Learning account to use and assign Boom Cards. You will be able to assign the Boom Cards you are buying with "Fast Pins," (a form of play that gives instant feedback to students for self-grading Boom Cards).
"Boom™ is the trademark of Boom Learning. Used with permission."
Use, by you or one client, in a single end product which end users are not charged for. The total price includes the item price and a buyer fee.