BEGRIPSTOETS OU VRIENDE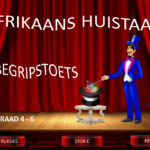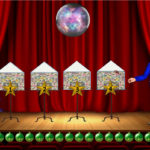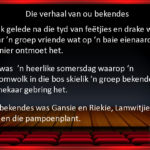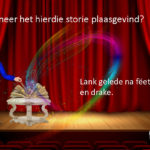 Resource Description
Deel die klas in 2, 3 of 4 groepe. Elke groep kry 'n beurt om te speel. 'n Verkeerde antwoord verbeur 'n beurt.
Op die beginskerm is daar 4 podiums elk met 'n nommer. Die groep self besluit watter podium hulle kies. Juffrou kliek op daardie podium se nommer en die towenaar beweeg daarheen. Juffrou kan op 2 maniere op die podium kliek. As u op die podium staander kliek, gaan die groep se briefie brand en hul beurt is verby. As u op die koevertjie in die podium kliek gaan 'n "Geluk" briefie verskyn en die leerders kan begin speel. Juffrou se keuse.
Die groen bobbels aan die onderkant is die vrae. Kliek hulle van links na regs elk op hul beurt vir die vrae.
Die vraag verskyn outomaties, maar om die antwoord te kry moet u op die gekleurde sfeer kliek. Daarna kliek u op die swart towerhoed wat sê "VOLGENDE", vir die volgende vraag.
Die volgorde is dus:
*             Podium nommer
*             Kliek op staander of koevert
*             Kliek op groen bobbel vir vraag en gekleurde sfeer vir antwoord.
Hierdie is 'n interaktiewe Power Point les van 36 skyfies.
Afrikaans Huistaal
Begripstoets vir Gr 4 – 6
Use, by you or one client, in a single end product which end users are not charged for. The total price includes the item price and a buyer fee.