DIFTONGE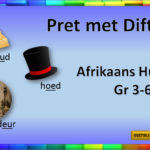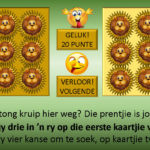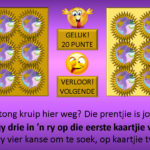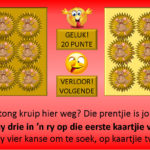 Resource Description
Deel die klas in twee of drie groepe, elke groep kry 'n beurt om te speel. Hulle mag mekaar in die groep help.
Die linkerkantste blokkie is die antwoord blokkie.
Die regterkantste blokkie is die raai blokkie. Net vier raaie.
Kyk na die prentjie, en stel eers vas watter diftong kruip weg.
Kliek op 'n prentjie aan regterkant vir 'n leidraad waar die diftong wat jy soek mag wees. Jy kry vier raaiskote voordat jy die finale antwoord op die linkerkantste blokkie moet invul.
As jy na vier of minder raaiskote die regte blokkies kan aanwys, wen jou span 20 punte. Groepleiers hou punte.
Onthou om klank aan te skakel.
Hierdie is 'n interaktiewe Power Point les van 23 skyfies.
Afrikaans Huistaal Gr 3 – 6
Use, by you or one client, in a single end product which end users are not charged for. The total price includes the item price and a buyer fee.