Digraphs – Trash or Treasure Decoding Interactive PDF No Print Game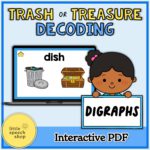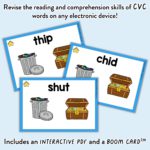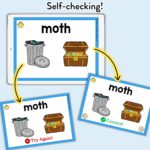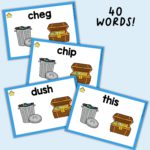 Resource Description
Use this Trash or Treasure Decoding Interactive PDF No Print Game to review the reading of various phonic patterns.
✨ Directions ✨
Use this activity on your computer, iPad, tablet or interactive whiteboard. It is saved as a PDF and can be viewed on your device using your favourite PDF reader. When you open the PDF, navigate straight from the menu to play the game.
Read the word on the page and click on the Treasure Box if it is a real word or the Trash Can/Rubbish Bin if it is a non-word.
💥 Included in this resource are 20 real digraph words and 20 non-word digraph words arranged in a random order.
This product is fully interactive:
🏡 Click the HOME button to easily navigate to and from the Main Menu
➡️ Click the SIDE ARROWS to navigate between slides
✅ ANSWER buttons. Click on the correct word. If the incorrect word is chosen you are given the opportunity to try again
Use, by you or one client, in a single end product which end users are not charged for. The total price includes the item price and a buyer fee.