Grade 5 Geography Term 3 – Powerpoint slides and PDF Summary in English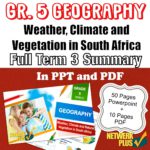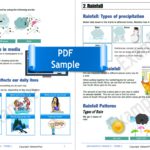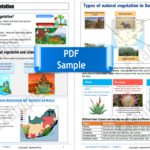 Resource Description
Gr.5 Geography Term 3 summary with beautiful visual illustrations. (in line with content of Plantinum Social Science Learner guide)
Powerpoint (50 pages) and PDF (10 pages) included in this product.
Topics: Weather, Climate and Vegetation
-The Weather
– Rainfall
– Climate
– Natural Vegetation
Suitable for class presentations and exam preparation.
You are welcome to distribute in your own classroom for exam preparation, or to other children in your household. (1 license for 1 teacher's classroom, no time limit. Or 1 license per 1 household, no time limit)
The product may however not be redistributed to other classrooms, or learners outside of your classroom.
If you bought this product for your household, you may use for all children in your household, but not redistribute to anyone else.
You are however welcome to refer this product with a link to this product page. (In fact, that would be much appreciated!)
Thank you, and I hope you find the product enjoyable and useful.
Venita Oberholster
Netwerk Plus
THIS PRODUCT IS ALSO AVAILABLE IN AFRIKAANS. GR.5 HISTORY – TERM 3 ALSO AVAILABLE.
Use, by you or one client, in a single end product which end users are not charged for. The total price includes the item price and a buyer fee.