My Lyfie: Persepsuele en Fynmotoriese Aktiwiteite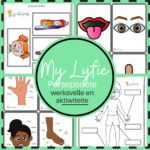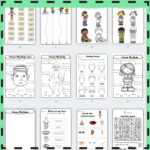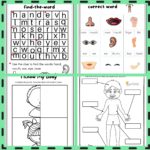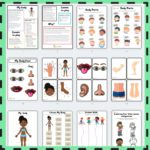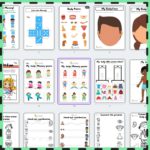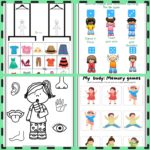 Resource Description
Liggaamskonsep verwys na feitelike kennis oor die liggaam, bv. wat die liggaamsdele genoem word; die posisie van liggaamsdele (jou kop is bo-op; jou lyf is tussen jou nek en bene geleë); liggaamseienskappe en funksies (jou bene is langer as jou arms, ek sien met my oë) ens.
Kinders ontwikkel liggaamspersepsie deur die name en funksies van verskillende liggaamsdele op 'n konkrete en speelse-wyse aan te leer. Die suksesvolle verkryging van 'n liggaamskonsep is egter afhanklik van 'n goeie liggaamskema, persepsuele vermoëns, taal, geheue en begrip.
Hierdie hulpbron ondersoek die tema van Liggaamspersepsie met groot-motoriese, fyn- motoriese, visuele persepsie, oog-hand koördinasie en kognitiewe aktiwiteite. Hierdie hulpbron is ontwikkel deur 'n arbeidsterapeut en inkorporeer die tema"My Liggaam" met behulp van vroeë ontwikkelingsvaardighede.
Hierdie hulpbron sluit in:
Ontwikkelingsriglyne en Liggaamskonsep/ Skema inligtingsblad (uitdeelstuk).
12 x A6 My liggaam flitskaarte
2 Groot-Motoriese speletjies / aktiwiteite
7 Oog-hand Koördinasie en Fyn-Motoriese aktiwiteite / werkkaarte
20 Visuele Persepsie aktiwiteite / werkkaarte
2 Speelklei Matte om te lamineer vir maklike gebruik en skoonmaak
Geskik vir ouderdomme vier jaar en ouer. Aktiwiteite word gegradeer van makliker tot moeiliker met 'n wye keuse van aktiwiteite beskikbaar vir verskillende vaardigheidsvlakke/ ouderdomme
47 drukbare bladsye.
Beskikbaar in Engels en Afrikaans. 
Use, by you or one client, in a single end product which end users are not charged for. The total price includes the item price and a buyer fee.