Number Bonds to 5 Game – Math Bingo – Digital Boom™ Cards Activity – Numbers 1-5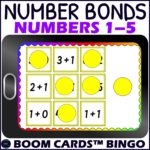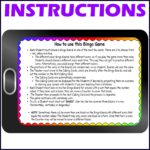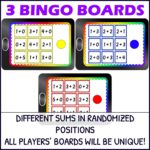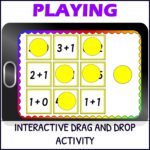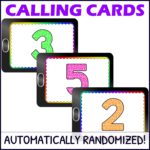 Resource Description
Need a game to practice number bonds to 5 that will be fun and engaging? This Boom Cards math bingo game is perfect for getting your students focused on addition as they do number bonds for numbers 1-5! This no prep digital activity can be used for distance or hybrid learning – or face to face teaching!
Save 20% on this resource with my Number Bonds Boom Bingo Bundle! You can find it in my store.
How this Boom Bingo Game works:
The first card in this deck has instructions to help you know how to use the game.
The next few cards have bingo boards. These boards each have different number bonds sums on them, so if you play the game more than once, students should use different bingo boards each time to practice different sums!
The blocks on the bingo boards are randomized, so all students will have unique bingo boards each time they play!
As the teacher, you will move to the cards following the bingo boards. This is where you will find the calling cards. These calling cards are set to randomize, so you simply need to move through the cards and call out to your students as you go. You can also display your screen for students to see the calling cards with a projector or by sharing your screen with them if you wish!
Students play by dragging the counters on the right screens onto their bingo boards when they find a block matching the calling card.
This fun Number Bonds Activity includes:
Boom Cards
– instruction card
– Bingo Board cards
– Calling Cards
Teacher information
Your kiddos will love practicing their number bonds to 5 with this fun and interactive math bingo game!
To use Boom Cards, you must be connected to the Internet. Boom Cards play on modern browsers (Chrome, Safari, Firefox, and Edge). Apps are available for modern Android, iPads, iPhones, and Kindle Fires. For security and privacy, adults must have a Boom Learning account to use and assign Boom Cards. You will be able to assign the Boom Cards you are buying with "Fast Pins," (a form of play that gives instant feedback to students for self-grading Boom Cards).
"Boom™ is the trademark of Boom Learning. Used with permission."
Thank you so much,
Colleen Schwartz Colleen's Cosmic Collection
Use, by you or one client, in a single end product which end users are not charged for. The total price includes the item price and a buyer fee.