Sorting Shapes and Colours Activity – Digital Boom Cards Game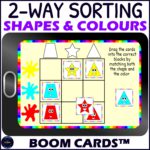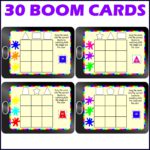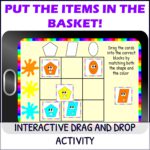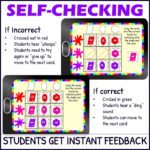 Resource Description
Need an activity to practice sorting shapes and colours that will be fun and engaging? This no prep digital Boom Cards matching activity is perfect for practicing shape and colour recognition! Your kiddos will be able to practice working with a two way table as they sort the different colour shapes based on both the shape and the colour of each item.
This sorting activity can be used for distance or hybrid learning – or face to face teaching!
How this 2 Way Sorting Activity works:
On each card, the students are presented with a grid and a pile of cards with pictures of coloured shape characters. The grid has shapes on top and colours down the side. The students will need to sort the cards and put them in the grid by matching both the shapes and the colours correctly.
The colours included in the activity are red, orange, yellow, green, turquoise, blue, purple and pink.
The shapes included in the activity are square, rectangle, circle, oval, rhombus (diamond), parallelogram, kite, trapezium (trapezoid), triangle, star, pentagon, hexagon and octagon.
Students do not need to know the names of the shapes or colours. They will simply sort them by sight.
This fun 2 Way Sorting Activity includes:
30 Boom Cards
Interactive drag and drop format
Boom Cards are self-checking and students get instant feedback!
If students are correct they hear a "ding" sound and can proceed to the next card to receive the next instruction.
If students are incorrect they hear "whoops". They will need to try again, or "Give up" to move to the next card.
Teacher information
Your kiddos will love practicing sorting shapes and colours with this fun and interactive activity!
To use Boom Cards, you must be connected to the Internet. Boom Cards play on modern browsers (Chrome, Safari, Firefox, and Edge). Apps are available for modern Android, iPads, iPhones, and Kindle Fires. For security and privacy, adults must have a Boom Learning account to use and assign Boom Cards. You will be able to assign the Boom Cards you are buying with "Fast Pins," (a form of play that gives instant feedback to students for self-grading Boom Cards).
"Boom™ is the trademark of Boom Learning. Used with permission."
Use, by you or one client, in a single end product which end users are not charged for. The total price includes the item price and a buyer fee.