St Patricks Day Multiplication Facts for 6 Times Table Activity – Matching Game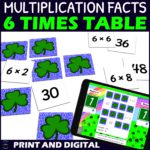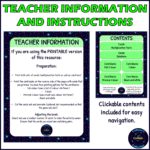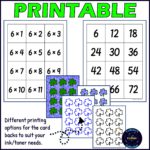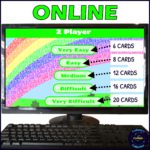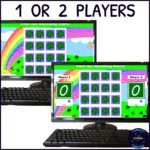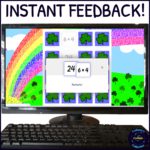 Resource Description
Need a St Patricks Day activity for practicing multiplication facts for 6 with your kiddos that will be fun and engaging? This math memory matching game is perfect for getting your students focused on the 6 times table! With printable and digital versions included, you will be able to use this matching game no matter what life throws at you – whether you are teaching in person or doing distance learning!
Save 20% on this resource with my St Patrick's Day Multiplication Facts Matching Games Bundle – available in my store!
If you choose to use the printable version of this game, prep includes printing, laminating and cutting.
You can adjust the difficulty level by using more or less cards at a time!
If you choose to use the online game, which has 5 different difficulty levels, there is no prep required!
The online games are hosted on my website, and require an internet connection. Neither you nor your students will be required to create an account in order to access the game – all you need is the link, which you will receive in a pdf when you purchase this product. You will be able to access these games indefinitely for as long as my website remains active.
This fun St Patrick's Day Multiplication Facts Matching Game includes:
Clickable contents for easy navigation
Teacher information
Printable cards
– Multiplication facts
– Solutions
Different printing options for the card backs so you can choose how much colour ink/toner you wish to use, or just print in black and white!
Online game option, matching:
– Multiplication facts to solutions
5 difficulty levels for each online game option
– Very easy (6 cards)
– Easy (8 cards)
– Medium (12 cards)
– Difficult (16 cards)
– Very difficult (20 cards)
All online games also have 1 player and 2 player options!
Your kiddos will love practicing their times tables with this fun St Patricks's Day themed matching game!
Try out my FREE SAMPLE Fractions Matching Game to see how my online matching games work – you can find it in my store!
Thank you so much,
Colleen Schwartz Colleen's Cosmic Collection
Use, by you or one client, in a single end product which end users are not charged for. The total price includes the item price and a buyer fee.