Interventions and revision for young learners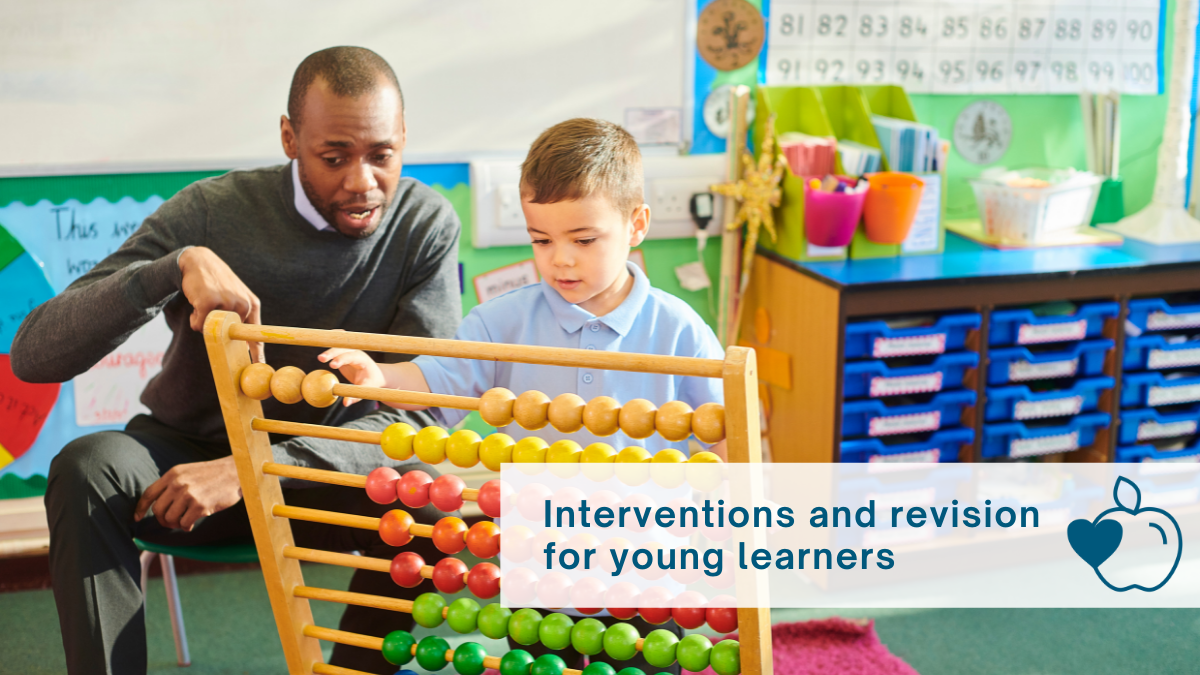 Looking back at recent years, this year has started off better than expected. Until recently, we haven't been able to see our learners as often as usual, and keeping the disruptions in teaching in mind, there might be a need to offer extra support.
How can we assist our young learners who need extra support?
Host parent-teacher information evenings
Here, you could explain different methods parents can use to reinforce spelling, review the pronunciation of sounds, and help their children to study at home. Invite parents to school and offer those at home the option to connect to the conversation via video conferencing, for about an hour per term. Take hands as a community to touch upon concerns and invite parents to volunteer their time to help your learners to learn, review, explore, play, and grow as much as they can.
Get silly and have some fun
Sing songs to review spelling words. List the words on the board and play guessing games where words are sounded out or spelt for the learners to match (e.g. You say 'm-oo-n' and they say 'moon'. You say 'sp-oo-n' and they say 'spoon'). Have the learners use small whiteboards to copy what was sounded out and to review their knowledge. Once the words are copied correctly, repeat a word and have the learners erase the given word. Repeat this activity until all the words are erased. Have learners attempt to use most of these words in meaningful sentences and encourage them to use the words in future work.
Incorporate video clips
In my own classroom, I have seen an increased struggle with discerning between sounds, learning to pronounce sounds correctly, and associating sounds with the correct symbols. In situations where I could not remove my mask to show the learners my mouth, we reverted to video clips. I can now demonstrate the pronunciation of 'b' versus 'd', and 'k' versus 't' in this manner.
Go through old newspaper or magazine articles
You'll need to check for content that is both safe and has a suitable vocabulary. Share a copy of the same article or give different articles to your learners. Have them find and circle words from your spelling lists or words that rhyme with given words. How many words could they find? Complete a graph to see which words were the most or least popular. Can they subtract the smaller numbers from the greater numbers or could they add the numbers together?
Create mini book clubs
This gives learners the opportunity to reflect on and talk about the content in the readers, poetry, or novels they are reading. Try to find a personal connection to the book and share it with the group. Teach learners to start their statements with similar phrases, such as 'I think…' or 'this reminds me of…'. They may then choose an idea to write about in their handwriting books. Incorporate the new vocabulary in handwriting lessons and offer older learners the opportunity to write in cursive.
Make Maths interactive
In Mathematics, you can include words from the spelling lists in word problems. For example, 'Mom washed nine spoons. I dried five spoons. How many spoons do I still have to dry?' or 'Jim took two photos of the moon and I took three photos of the moon. How many photos did we take altogether?'
Count rhythmically on the way into the classroom or as you leave. Ask your learners, 'Who can count in twos, fives, tens and more? Can you count in odd numbers or even attempt to count in prime numbers?'. Paint number grids (or games such as snakes and ladders) on the playground and add flashcard stickers to the front sections (façade) of stairs. This could include number bonds, times tables, sight words, or tricky words.
Include a mix of activities in your lessons
Try to create three or four activities during a regular period and rotate your learners through these in small groups. If you have an assistant available, have the assistant cover one group (e.g. taking turns reading aloud), while you help a group with their spelling and another group could work on their writing skills. Try to arrange your groups in such a manner that you can support the learners who need more guidance. Should you have extra time available, you can provide time for peer reading or games – in groups or pairs.
Call on the older learners for help
Would it be possible to have older children mentor the younger learners, say for ten minutes before the school day starts or after school? Have them review flashcards or play educational games. Should it not be possible, ask older grades to create videos with similar content to play for younger students during the week.
Make use of worksheets
I like to incorporate word searches to review spelling words. The words are mostly listed horizontally and on the odd occasion, I'll add vertical words as well. When learners are overwhelmed by the number of words, I'd lessen the workload or give them words to trace, rather than having them write it themselves. When worksheets come home without an explanation, it can create tension at home. I send short video clips or voice notes to explain worksheets, or upload them to my classroom page for learners and parents to access.
Create grade-level support materials
Many of my former colleagues would create their own grade-level mini textbooks to explain concepts such as mathematical methods, how to write a letter or an essay, and will include commonly used resources, such as number charts and word lists. You do not have to provide a complete printed guide but having it available (even digitally) will give your learners the tools to feel more in control of their learning within the classroom and at home. Having supportive material to reference can help your current and future learners (and their families) to find answers.
This intervention, remedial, and therapy resource collection on the Teacha! resource marketplace, which is also available in Afrikaans, contains helpful resources (including some of my very own) to help Foundation Phase learners who need extra support with their revision and homework. May you and your learners have a successful year of learning and growth!
About the author:
My Klaskamer by Juffer has been the 'go to' blog for Foundation Phase teachers for more than a decade. Juffer also has a store on Teacha! with many resources (from flashcards and worksheets to posters and decor) for Foundation Phase teachers and parents, both in Afrikaans and English.