Graad 4 Natuurwetenskappe & Tegnologie Kwartaal 4 (Platinum) – Opsommings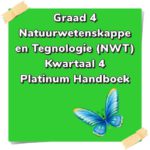 Use, by you or one client, in a single end product which end users are not charged for. The total price includes the item price and a buyer fee.
Resource Description
GRAAD 4 NATUURWETENSKAPPE EN TEGNOLOGIE PLATINUM HANDBOEK KWARTAAL 4:
INHOUD:
Onderwerp 14:  Planeet Aarde
Onderwerp 15:  Die Son en sy uitwerking op die Aarde
Onderwerp 16:  Die Maan.
Onderwerp 17:  Vuurpylstelsels.
Pakkette sluit gewoonlik die volgende in, maar kan verskil van produk tot produk:
Oorsig vir die kwartaal wat hoofpunte, sleutelwoorde en kort opsommings / hersiening
Breinkaart per hoofstuk / onderwerp / kwartaal afhangende van die volume.
Uitgebreide opsommings wat puntsgewys in kleur met prentjies en / of foto's opgestel