Graad 7 Sosiale Wetenskappe (SW) (Geografie en Geskiedenis) Kwartaal 1 (Via Afrika)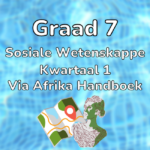 Resource Description
Hierdie produk bevat al die werk vir Sosiale Wetenskappe Graad 7, kwartaal 1 en is gebaseer op die "Via Afrika" Handboek in Afrikaans.
Geografie: Kaartvaardighede
Eenheid 1:  Plaaslike kaarte en straatkaarte
Eenheid 2:  Sketskaarte en verduideliking van roetes
Eenheid 3:  Afstand en skaal
Eenheid 4:  Huidige gebeure
Geskiedenis: Die koninkryk van Mali en die stad Timboektoe gedurende die 14de eeu
Eenheid 1: Handel oor die Sahara-woestyn
Eenheid 2:  Die koninkryk van Mali
Eenheid 3: Die stad Timboektoe
Use, by you or one client, in a single end product which end users are not charged for. The total price includes the item price and a buyer fee.