Afrikaans – Paasfees versierings – plakate, vlaggies, mobiel en aktiwiteite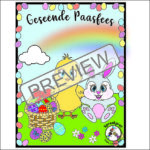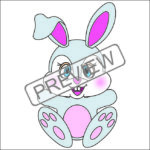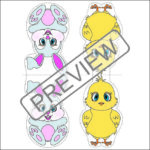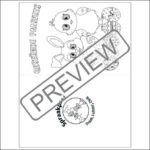 Resource Description
Versier jou klaskamer of kind se speelkamer met die kleurvolle plakate, vlaggies en wind mobiel.
Die instuksies is ingesluit in die 24 bladsye, om jou eie pragtige versierings te maak. Kan ook gebruik word as 'n prettige klas aktiwiteit.
Betrek die kinders sodat hulle, hulle eie drie dimensionele kaartjie kan maak vir Mamma en Pappa. Uitstekend vir fyn motoriese vaardighede, kreatiwiteit en skêr vaardighede. Om nie te noem hoe trots die kinders sal wees op hulle self gemaakte drie dimensionele kaartjie nie.
Jy sal dalk ook hou van: Plaasdiere Graad R – plakate en aktiwiteite.
Die produk is vir die gebruik van een onderwyser of Mamma.
Intellectual Property All contents of this book and games, understood to include, but not limited to; text, graphic design, games, images or content, are the intellectual property of Speech Fun / Spraakpret. No content may be duplicated, resold, reused, distributed, displayed, translated, modified, reverse-engineered, disassembled, recompiled or otherwise exploited. You shall not upload to, or otherwise publish through social media sites, any of the contents, information or other material that infringes on Copyrights. It is intended for the use of the buyer of this product, only.