Alphabet tracing cards-Watercolour wild animals (Upper case, lower case and both)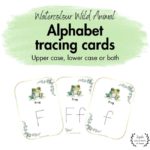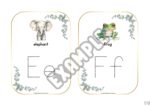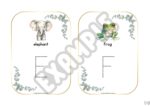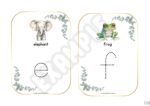 Items in my store can only be printed and used by the person who made the purchase. Each individual needs to make their own purchase in order to make use of these printables. Images, text and items as a whole from my store may not be sold and are for personal use only. Items bought on my story may not appear online or on social media without consent from me.
Resource Description
Make handwriting practice more enjoyable with these beautiful, calming, alphabet tracing cards.  There are 3 sets to choose from-all lower case, all upper case or both.  All 3 sets include all the letters from A-Z.  Each card has a watercolour image of a wild animal starting with that letter as a reference and to build vocabulary.  There are two cards per A4 page.  Cut out each card, then laminate or place in plastic sleeves, and use whiteboard markers when tracing to make the cards re-usable.