Animated GIF Insects and Bugs Clipart BUNDLE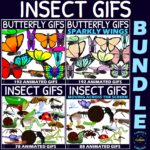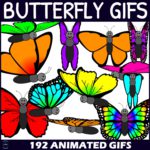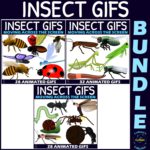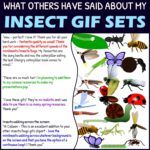 Use, by you or one client, in a single end product which end users are not charged for. The total price includes the item price and a buyer fee.
Resource Description
Take your spring themed digital resources to the next level by adding movement and interest with these fun ANIMATED Insects and Bugs Clipart images! These colorful GIFs are fantastic for making your resources more exciting and engaging!
This BUNDLE contains all of my Insect GIF Sets:
Animated GIF Sparkly Butterfly Clipart
Animated GIF Butterfly Clipart
Insect GIFs – Set 1
Insect GIFs – Set 2
Insect GIFs – Set 3
Insects Moving Across the Screen GIFs – Set 1
Insect Moving Across the Screen GIFs – Set 2
Insect Moving Across the Screen GIFs – Set 3
You will SAVE 20% if you buy these products together in this BUNDLE!
OR go to my store to SAVE 30% on these sets with my Insect Clipart and GIFs BIG BUNDLE!
THIS BUNDLE MAY GROW!
If I add more sets, the price of the bundle will increase.
If you have already purchased the bundle, you will get any new sets for FREE!
EACH ANIMATED INSECTS CLIPART SET IN THIS BUNDLE INCLUDES:
Insect animated GIF images
Quality
2 copies of each image
A high-quality copy
A smaller, web-friendly copy which can be used in Boom Cards™ task cards.
You can check out the preview videos on the page of each Animated GIF set to see the animations in action!
WHAT OTHERS HAVE SAID ABOUT MY INSECT GIF SETS:
"Wow – perfect! I love it! Thank you for all your hard work –

fantastic quality as usual! Thank you for considering the different speeds of the minibeasts/insects/bugs

. My favourites are the dung beetle and now the caterpillar eating the leaf (Hungry caterpillar book comes to mind)."
"These are so much fun!

I'm planning to add them to my science resources to make my presentations pop

."
"I love these gifs! They're

so realistic

and I was

able to use them is so many spring resources

. Thank you!"
Insects walking across the screen: "Hi Colleen – This is an excellent addition to your other insects/bugs gifs clipart –

love the minibeasts walking across whatever background is on the screen and that you have the option of a continuous loop!

🙂 Thank you!"
Thank you so much,
Colleen Schwartz